Last year, we attended the Maryland State Fair for the first time. We had only been in town a few weeks, so it was really great to go and learn about all the animals, vegetables, and fruits that are grown right here in the state. What I found most exciting was the Home Arts building, which was full of cakes, photography, woodworking and SEWING! This year, I decided to get in on the fun and it was an absolute blast! I met some really great people, got very useful feedback on my sewing, and won some ribbons!!! The creation I am most proud of is this blue-ribbon winning Embellished Patchwork Skirt, and I'm giving it away to one lucky reader!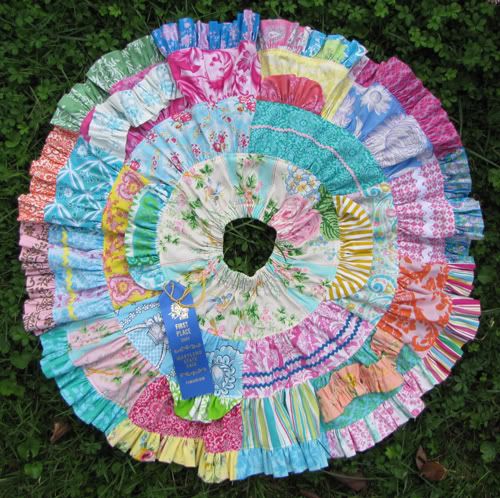 Now, I haven't gotten a ribbon for anything since 11th grade Science Fair (and I think that was 4th place), so my hopes weren't too high going into the competition. I'm happy to say I got ribbons on everything I entered, and I got a special award for Best Applique (pics to come)!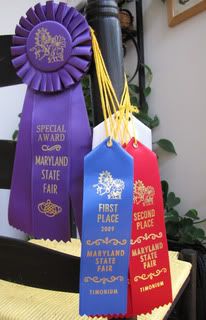 I would highly recommend participating in your own State Fair. It is so nice to be a part of such a wonderful tradition and have your work displayed among other fantastic creations. And I'm not sure how it works in other states, but here in MD there is prize money involved - woo-hoo! My winnings were more than enough to cover a day full of rides, games, and yummy junk food!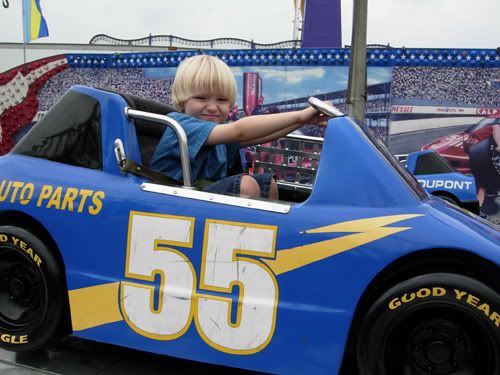 OK, so here is more info on the Twirl Skirt that is up for grabs...it is made entirely from wonderful
Sis Boom
fabrics (no two patches are alike)! I used my
Embellished Patchwork Twirl Skirt eBook
and included all of the trimmings - rick rack, euro ruffles, and inset ruffles.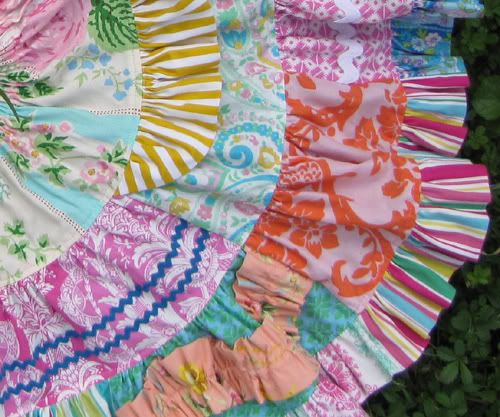 I was inspired by a skirt that my friend Mindy made for her adorable little daughter. You can see her creation
here
in our Flickr group. This skirt is 13" long, and would best fit sizes 2-6 (I'll adjust the waistband elastic to the winner's specifications).
So how do you win this for your little twirler? Easy...just l
eave me a comment with an interesting fact about your home state
. I'll pick a number at random for the skirt giveaway. In the spirit of the state fair, I'm going to throw a little friendly competition into the mix. The posters of the top 3 most amusing comments (as judged by me, myself, and I) will each win a copy of the
Embellished Patchwork Twirl Skirt eBook
. The winners will be announced on 9/15.