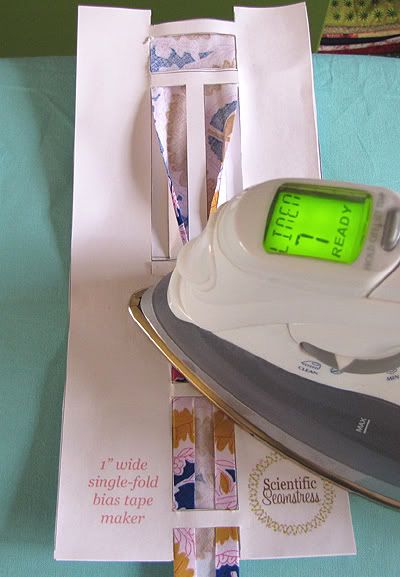 It works exactly like the 0.5" tape maker, I just widened the appropriate parts. It took some tweaking, but once I got it optimized it went together quickly since the instructions were essentially the same. Now I'm going to take the laziness a step further and recycle some blog content :) . The
free pdf
contains instructions for printing and assembling the tape maker. There is some careful cutting involved, but it goes together pretty quickly and can be used over and over again. And if you happen to smash/tear/burn it, simply print another.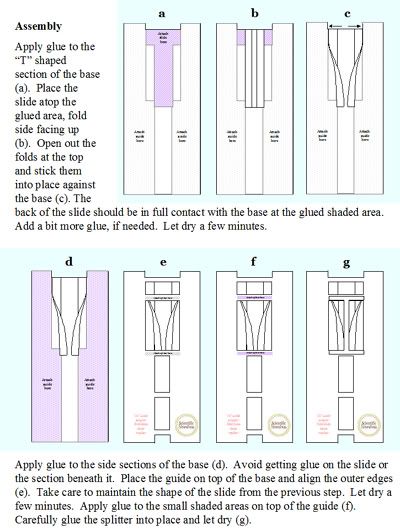 The contraption is optimized for folding 1.875" bias strips into 1" wide single fold tape. You can tweak the starting strip width a bit to get slightly wider or narrower tape.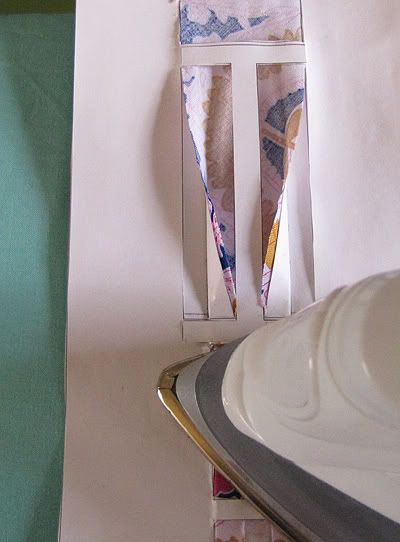 Here is how it works: The strip is fed into a "slide" that does the folding. The top notch and tabs keep the strip centered, and the "splitter" keeps the outer edges from curling or overlapping. The folded tape is pressed as soon as it comes out of the slide, and it goes under two more tabs to set the folds as they cool.
Now I'm hearing the
How it's Made
music in my head AGAIN!
The result is 1" wide tape with folds that are a bit over 1/4" wide (just like purchased tape of this size).
I played a bit with a single-fold to double-fold tape maker, but honestly, the easiest thing is to fold the 1" tape in half lengthwise and press to make 0.5" wide double-fold bias tape. You can make the folded edges flush, or leave a bit of an overhang for single step application (described by Angry Chicken in this
video
).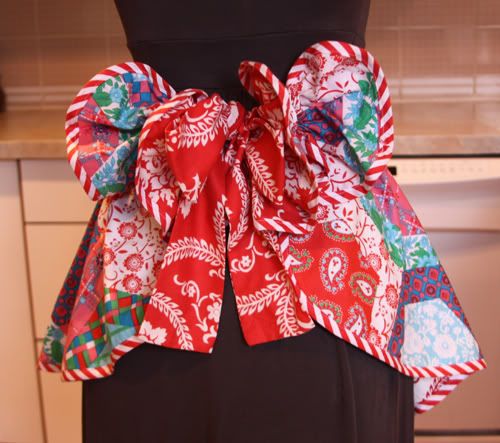 Now that I have an easy, foolproof way to make double-fold bias tape, I'm going to have to knock out a bunch of
Betsey Aprons
for the holidays!
Download the free printable bias tape maker
here
.
See
this post
for more information about cutting bias strips.