Ok, I've been a bad little blogger these last few weeks. I've gotten into my obsessive patternmaking mode (again), and haven't really stopped to post. I do have a couple of tidbits of news to share:
1) New Sis Boom Pattern!
Jennifer
and I debuted our newest
Sis Boom
pattern collaboration last week, and we are so in love with how it turned out!
Emily
is a very sweet bell sleeve tunic with a unique keyhole neckline. You can make it in a range of lengths, and it goes just perfectly with leggings and jeans! And check out the
Sis Boom embroidery designs
on both of the little models' jeans...what a fun way to extend these gorgeous motifs across an outfit!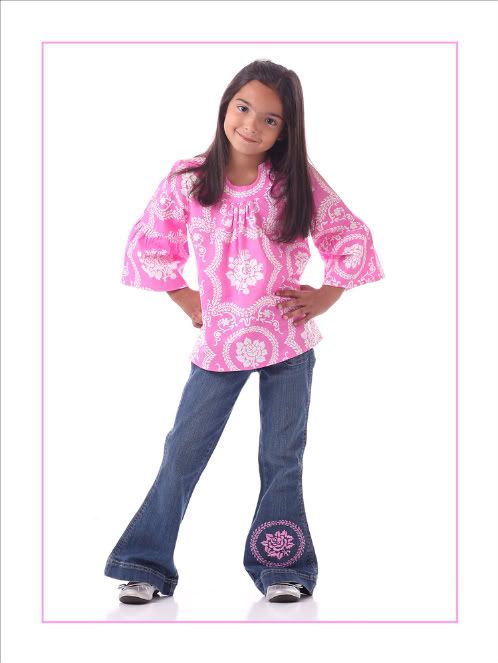 Thanks so much to our photographers
Annie
and
Mari
for the incredible pictures! Big thanks also to our great group of
testers
(especially
Tom
, who provided lots of great tips for making the round collar attachment a breeze)!
2) FREE Patterns (and a TV spot)!
YCMT
has an awesome treat for you! Go on over and download
Festive Vests
and
Fancy Filled Tutus
for FREE until 10/31!
I had the honor of sewing up a couple of the vests for a segment on Studio 5 on KSL-TV in Utah. The little boys who modeled them were very composed and handsome, and their tutu-wearing little sisters were completely adorable! Kim did a great job demonstrating the steps of making the tutu, too!!! You can watch the segment
here
on the YCMT blog!
3) More patterns in the works!
The grown-up version of the Emily Bell-Sleeved Tunic is with the testers as we speak! Jennifer's stylish mom was the inspiration for this beautiful, flattering top. The round neckline is so divine, and the tunic is just incredibly comfortable and easy to wear. You can see the original design
here on Jennifer's blog
...soon I'll be sharing pics of my lovely mom modeling as well :) !
I'm also working on a much requested Scientific Seamstress eBook...it is the grown-up version of one of my most popular patterns for girls and boys. I've already made a few prototypes for myself and my hubby, and lets just say we are enjoying "lounging" around in them ;)!
4) Another princess tutorial is coming SOON - (I'm hoping to finish up and get some pictures early next week)!
That about sums it up - I'm popping back out now....