It is Friday...the end of the week and the beginning of the weekend! I can't believe how the days fly by when I'm busy. This week was especially productive. I wrapped up some projects that have been in the works for a while, and started in on some fun new ones.
eBook Updates: Finished!
The transition from SewBoutique4Dolly to CarlaC patterns is complete! The three remaining Dolly & Me eBooks (
Embellished Patchwork Twirl Skirt
,
Twirl Scallopini Skirt
, and
Simply Sweet Tops and Dresses
) have been updated and are available on YCMT. The changes were strictly cosmetic - new cover, more labeling on the patterns, etc. I've decided to leave Volumes 1-5 as SewBoutique4Dolly patterns. The title and theme still works for those eBooks, which are boutique-inspired designs for dolls. Everthing else is now in CarlaC "Scientific Seamstress" format - yay!
YCMT Sew-Along Quilt: Finished!
- The last few steps went so much smoother than I expected! I've mentioned before that I've made some wonky little quilts that were very hard to finish. Having a nice, flat, square quilt top makes all the difference in the world! The excellent finishing instructions no doubt helped too :) . To sum up, I added the batting and backing, basted with pins, and machine quilted (
step 11
). I used a walking foot for the first time ever, and it was amazingly easy. I had the whole thing quilted in about an hour, and it looked so much better than my not-so-consistent hand stitching. I then made and added the binding (step 12,
part 1
and
part 2
). Now all I have to do is hang it!
More Seeds: Started!
- I transplanted most of the month-old seedlings out of the flats and into to pots, making room for more seeds. It has been pretty sunny, so everything is coming up nicely.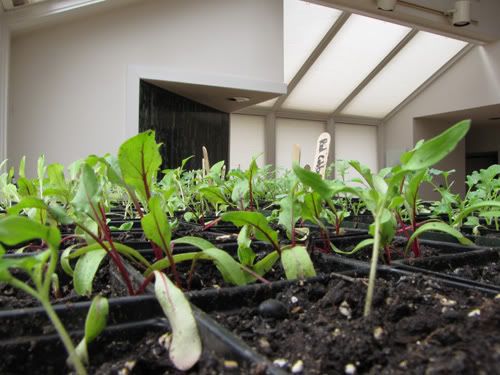 A new eBook: Started!
- I promised myself that I wouldn't start a new eBook until the updates were finished. That meant no sketching, drafting, or sewing new designs. It didn't keep me from thinking about those things, however. I've been mentally working on a dress for about 3 months now. I've been dying to get going on it, and when I finally put pen to paper (or mouse to pad), it all just came right together. I have the pattern pieces drafted, and have made a few prototypes. Louie has developed broad boy shoulders, and an aversion to wearing anything "gworly," so I sent a dress off to a seamstress friend who has a daughter. After I get her feedback, I will tweak the patterns and start writing the instructions. It will take me a while to complete this eBook as the construction is a bit involved (but easy), but I am so happy to have something new in the works!