It has been a cold, snowy week, but spring is on the way. According to the forecast, we are going to be in the mid-60's this weekend - YAY! One of my favorite styles for spring is the classic A-line. Yet another one of my friends had a beautiful baby girl, so I made her a springy little dress from my
A-line eBook
. The applique is a letter from Kimberbell's
name pillow set.
I love the whimsical look of this font and have used it on several baby gifts. The bloomers are just
Easy-Fits
with a casing and a bit of elastic in the cuffs, and the bow was made using
Lamb's ABC Bow instructions
.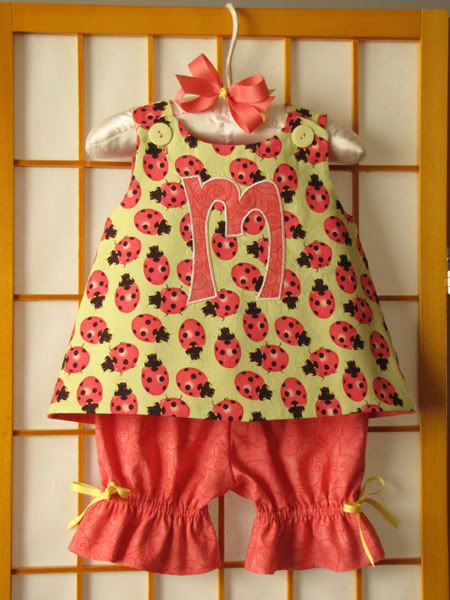 A-lines are incredibly easy to make - very little piecing, no gathering, and no hemming. They can be made to be reversible, too, so you can get two looks for the price/effort of one. The only thing that can be tricky is the last little seam. In the updated version of this eBook, I've further broken down the finishing technique, and included fresh new pictures of the steps. I also shifted the sizes to give a roomier fit in the chest area. So basically, the old 8 is now the 7, the old 7 is now the 6, and so on. The tinest size is down to a size 0 (great for baby gifts), and I drafted a new, larger size 8.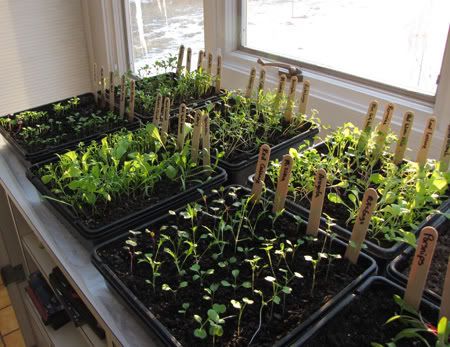 My little sprouts are doing well. They are a bit spindly, but that is to be expected giving their growing conditions. This weekend, I am going to transplant them into new digs to give them more room to spread those little roots. As much as I'm enjoying having a little garden on my entertainment center, I'll be so glad to get them outside. I'm sure the feeling is mutual :) .