Ahhh - Spring! All the singing birds and pretty flowers motivated me to brighten up my dining room with some happy Sis Boom fabrics!





First off, I recovered my dining room chairs with prints from Girlfriends and Poodle. The dinette came with the house, and the chairs were covered with a light peach velveteen that was no match for Louie. The recovery process was actually pretty painless. There were three screws in the bottom of the chair, and when I removed them the seat and back popped right out. The bottom and sides of the back cover are stitched, and the top is stapled. The bottom cover is just stretched and stapled on. I'm so happy to walk into the room and see paisleys and toiles rather than pizza stains and Elmer's glue blobs.





I also made a coordinating runner for the buffet using Poodle laminate.





Talk about a low-effort project. I just cut it to size with pinking shears. You could actually use regular scissors, as laminate does not fray.





This year's seedlings are doing really well. I'm staggering plantings in hopes of a more constant harvest rather than too many veggies all at once.





The perennial beds are weeded and ready for action. There are few bulbs up and blooming, but things will really get rocking in the next few weeks when the peonies and irises pop.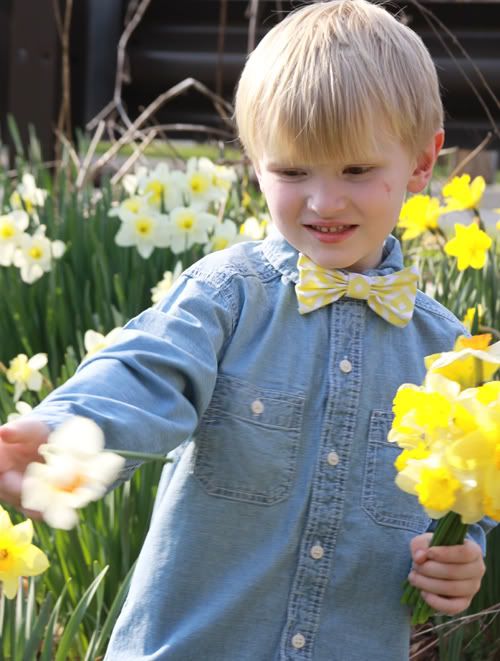 For now, we are really enjoying the daffodils.
(Get the Bosco Bowtie tutorial here for free!)





Not too much green on in the veggie bed yet, but there are lots of little seedlings up.





A family of bunnies moved into the neighborhood, so we are going to have to put up a little fence. In the meantime, we are protecting the pea seedlings with seltzer water bottle cloches. They seem very happy :) .