Jennifer and I are happy to announce the arrival of our latest sewing patterns...Angie and Leighanna! They are available on the
Sis Boom website
and in the
Scientific Seamstress Etsy Shop
. Look for them soon on the other
great sites
that carry our downloadable patterns!
Now, we usually release a woman's pattern and a matching kiddo counterpart at the same time. In this case the little girl's version was already available in
Jen's book
. The very retro, easy-to-make
Mary's Fancy Sash Dress
was such a hit, we were getting requests for a mama version. So I got to work on that, but I had this nagging feeling that I would be in big trouble if I didn't have something new for the little gals. Jen always has a big list of ideas for me, so I picked her darling little pom-pom trimmed peasant.
Over the next few days, I'll talk a bit more about the two new patterns and show of some gorgeous tester creations. Today I want you to meet the real Leighanna and Angie. Even though the patterns aren't technically a "mommy and me" set, we named them after a lovely mother daughter pair.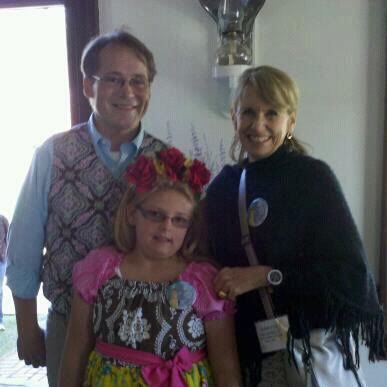 You all know Tom, right? He has been making beautiful creations for his wife and daughter for years, and now he is selling custom creations...his business is booming! Like his
Facebook Page
to see what is sewing for
HeavenleighBlessings Boutique
.


Jennifer had the amazing opportunity to meet Tom and his family at the Country Living Fair in Ohio. She was so inspired, she wanted to name the next pattern after Tom's sweet wife, Angie. Since I also had a girls' pattern in the works, the logical name choice was that of his adorable daughter, Leighanna. Incidentally, Tom already has boxer shorts named after him :) .




As soon as the testers got ahold of the Leighanna pattern, they demanded a mama version. I had time to whip up a prototype just before the Sis Boom Holiday Show last weekend.




I actually wore the peasant under my new Angie dress, and the shoppers loved it! If it had been a little warmer, I would have considered selling it off my back. Since the instructions will be just like those of the Leighanna, it shouldn't take me long to get the pattern ready. Louie donned a coordinating Festive Vest and Bosco Bow Tie. The apron is to protect his dressy duds from the yummy pasta Jennifer made just for him...awwwww!