I mailed out 10 packages yesterday, which is definitely a post office record for me. Included in those boxes: 3 tote bags, 2 aprons, 3 bowling shirts, 4 dollies, 1 pair of pajama pants, 2 name pillows, and 5 loaves of bread (Del's contribution). Almost everything was made during the
Thrifty Under Fifty Challenge
, and I came in well under budget (I think my total was something like $7). I think I've already posted about everything but the name pillows and the pj's, so here they are: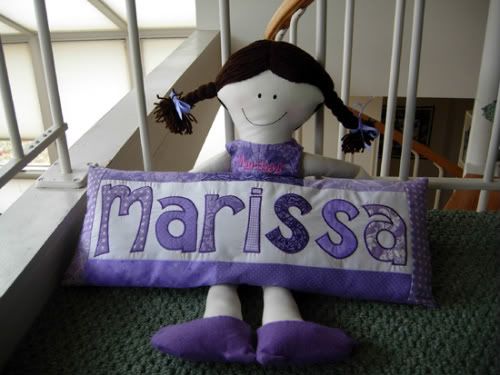 They are gifts for Del's niece and nephew (who is also a Delmar). The fun pillows are made from the
Kimberbell Kids Personalized Name Pillow
eBook from YCMT. I used the
machine embroidery version
from SWAK embroidery. The pants are
Easy Fits
(of course).
I have about 2.5 days left to make two pair of grown-up sized jammie bottoms, a quilted bed runner, a few photo/decoupage projects, and lots of little embroidery projects. I'm pretty sure I will be able to finish it all, but it is definitely feeling like "crunch time."
So what is everyone else up to...are you still crafting/sewing??? If so, what are you making? Post a comment (hopefully letting me know that I am NOT alone in my last minute frenzy), and you will be entered to win a CarlaC eBook of your choice! I'll do the drawing Tuesday (12/23) p.m. Hopefully by that point I will be finished up and wrapping presents!