The updated version of the
Stripwork Jumper eBook
is now available on YCMT!
As with the Easy-Fits, I added size 6 months for the little ones. Here is the tiny test jumper: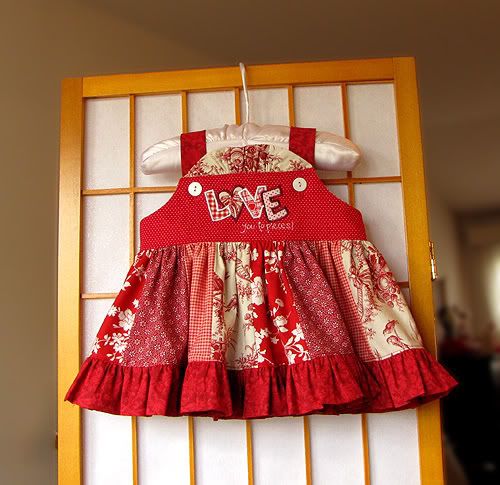 The
"Love You To Pieces" applique
is by the talented Kris of
Starbright Designs
. This design couldn't be more perfect for the jumper! The size is just right for the itty-bitty bodice, and the "pieces" theme ties in with the stripwork on the skirt. Kris also digitized the adorable designs on the jumpers that these cuties modeled for the new eBook cover: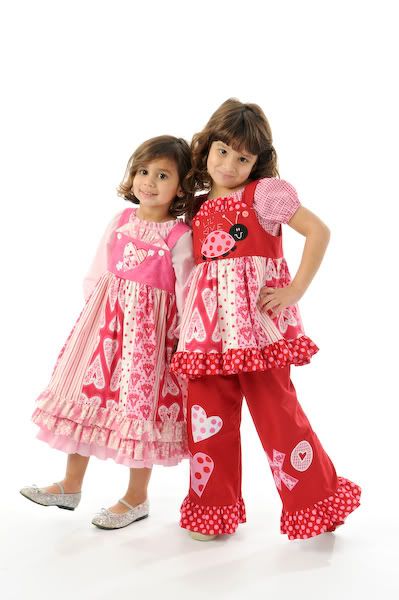 So besides an extra size and a new look, what else did I do to this eBook? The answer is LOTS. I wrote this eBook when I was still offering paper versions, so I tried to keep the page count down. All the steps were in there, but they were more condensed than my current style. So I fleshed things out a bit, adding details and diagrams where I felt they were needed.
I worked in directions for
underlining
the bodice. Underlining adds so much body and stability, which is really needed to support the weight of the skirt. Also, I've noticed that the neckline ruffles have a tendency to give in to gravity in the larger sizes. I resized them a bit, and gave a much more in-depth description of how to add them. Between that and the underlining, your ruffles will behave and stay upright now. In addition, I included dimensions/instructions for making a solid skirt. It is a modification I've seen made many times, and it so fast and easy to "whip up."
In other news, Kim just posted a new step for the
Scrappy Quilt Sew-Along
! Here are some of my squares: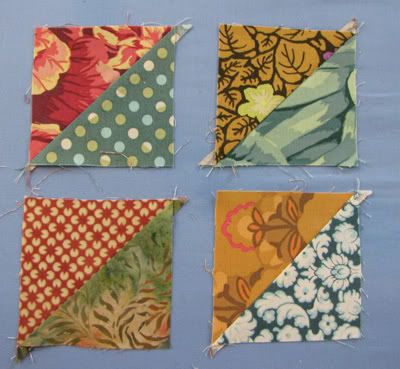 So far this hasn't been much work at all, and I'm learning some new approaches to quilting. I'm looking forward to the next step!