Time to showcase another update! This time the
Portrait Peasant
is in the spotlight. The original eBook included patterns and instructions to make a "babydoll" style peasant with several different skirt options. Now, in addition to the empire-style bodice pattern, an elongated top-length bodice pattern is included. The sides of the new bodice are flared, and the base has a gentle curve, giving an a-line shape to the finished garment. Instructions for finishing the top with a hem or a ruffle are included. Here is a ruffled one that I made as the final piece of the baby gift I've been working on:

And here is the completed set: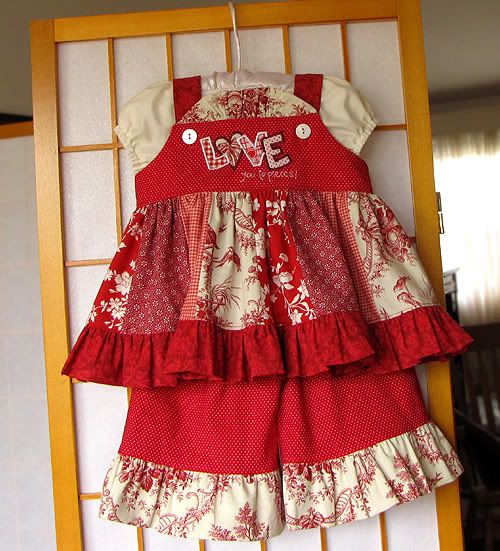 I'm actually going to meet the recipient this weekend! I have a few other little things that I am going to finish up for her today. Babies are SO much fun to sew for (especially those of the female variety)! I just love making these sweet, ruffly confections. My funny friend T refers to this jumper/peasant/pants combination as the "Trifecta." In her honor, I've put together a new
bundle pack
with all of these updated eBooks.