Wow! Where did March go? Seriously, it just flew by for me! I've spent the last couple of weeks totally fixated on finishing my latest eBook. I did take a break last weekend to attend an incredible
workshop
hosted by
Jennifer Paganelli
. What a dream that was! I had an absolute blast sitting in her sunny living room, making a big mess and soaking up creative energy. It was beyond inspiring, and it was such a treat to spend time with Jennifer and all of the other wonderful attendees.
I know I promised a sneak peak of the new eBook (it must still be March somewhere), so without further ado, here it is:
The eBook is called Precious Dresses, and it includes patterns and detailed instructions for making classic dresses with lots of options. The bodice can be empire or natural-waist length, and can be made sleeveless or with puffed sleeves. You can add a Peter Pan collar, ties, or a sweet little apron. I am so thrilled with the pictures of the adorable little models! I'll be sharing lots more of them when the eBook is finished. We couldn't leave baby brother out, so he is in a
Festive Vest
and
Easy-Fits
. The gorgeous fabric is from the
Darla
line by
Tanya Whelan.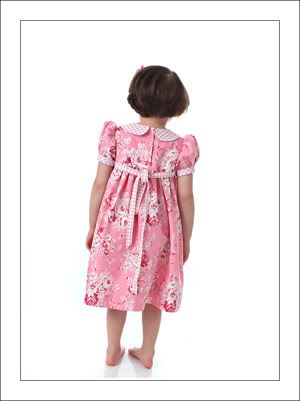 The dress fastens in the back with buttons. They are hidden within a placket, so you don't have to worry about making perfect buttonholes. You can even use snaps as an alternative - no one will know :) . I'm still working on some of the details, but hopefully the eBook will be finished up and available early next week. I'm going back in to work mode right now!