My best girls from Upstate NY are here this weekend!!! Caryn (on the left) comes to town twice a year to sell incredible jewelry with her husband
Cole
at the Sugarloaf Craft festival. She is also a fellow
YCMT
author! She is THE Pie Girl who shares her secrets to delectable fillings and an amazing crust in this
eBook
. We've had so many amazing feasts at her house, and those gatherings were greatly missed when we moved away from Ithaca. I'm so happy that we still get to reconnect in various cities. This time she brought along sweet Julie (on the right), another wonderful foodie friend. She owned the
Cabbagetown Cafe
in the 70's and 80's, and is a well-known vegetarian cookbook author. Needless to say, when these two come to town, we eat lots of healthy, delicious food.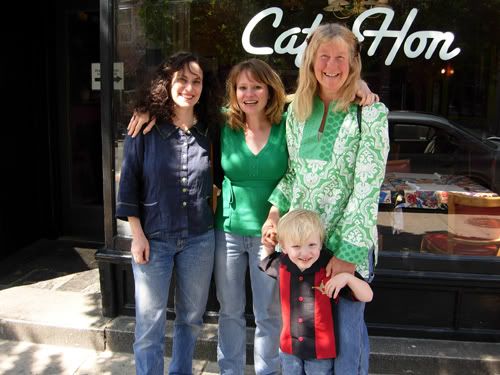 Yesterday was absolutely gorgeous, and we spent the afternoon in
Hampden
, the hippest, quirkiest, most delightful little neighborhood in Baltimore. It is home to the
Honfest
, a celebration of beehive hairdos, horned-rimmed glasses, and all things kitschy. Our first stop was
Cafe Hon
.
Of course Louie had to wear a retro
Bowling Shirt
. Julie stole the spotlight in a
Sis Boom Tunic
by
Jennifer Paganelli.
I've never seen a grown-up get so many compliments on a shirt! Even Elvis noticed! It was absolutely perfect for her and she was so happy and comfortable in it.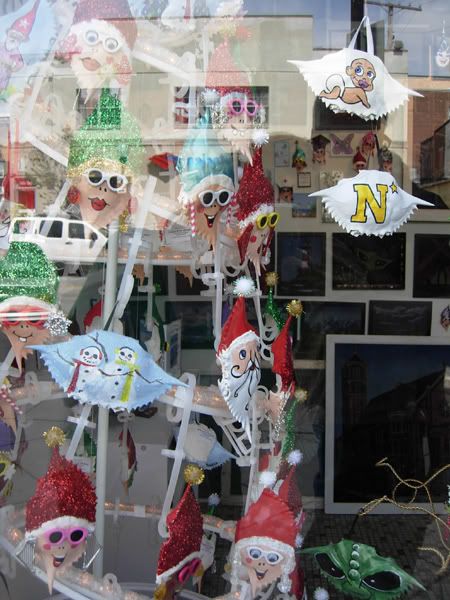 Can you tell what these ornaments are made out of? And don't you just love yoda??? So clever!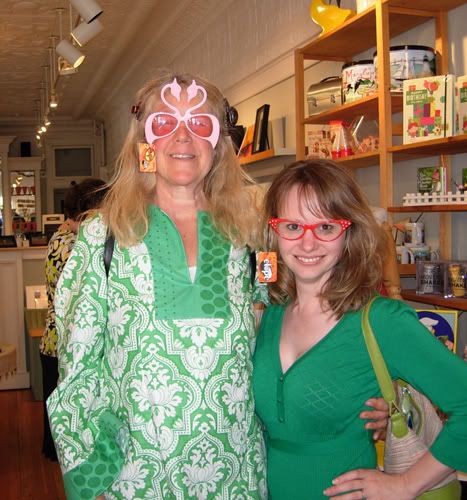 The shopping in Hampden is beyond description. I've never seen so many artsy, fun shops on one block. We spent hours browsing and even came home with a few treasures.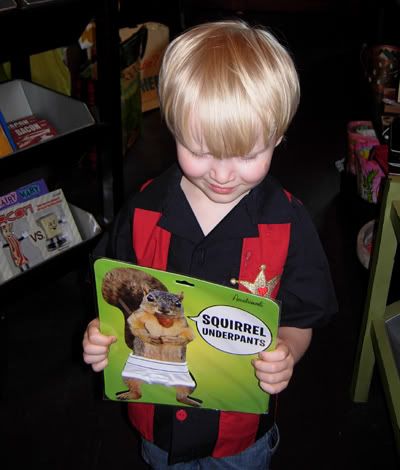 Louie was a great sport and completely amused in most of the stores. He was really impressed to see that "big boy pants" were available in size Squirrel! Today we are out to enjoy more lovely weather and of course, more shopping!