I'm normally a total homebody, but this month I took not one but TWO big trips. They were both dream excursions for me, too! I've been so wrapped up in planning/packing/sewing for these trips, that I haven't taken the time to blog. Therefore, you are getting a brief (but photo-packed) summary of my May adventures.
My first trip was to the enchanted island of
Sis Boom
over Mother's day weekend.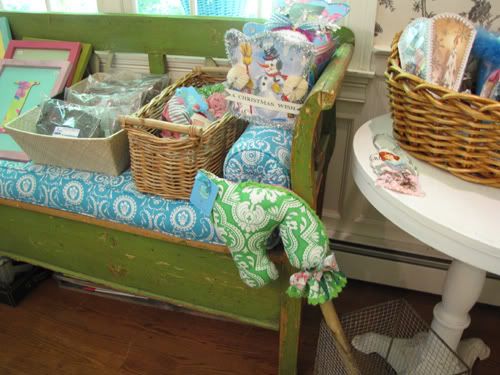 I didn't get many pictures inside the house because I was just overwhelmed by all the sparkling pretties and effervescent people. I managed to do a little better outside. Here I am donning my
Marlo Top
and manning the fabric cutting station. Yeah, I'm blissful.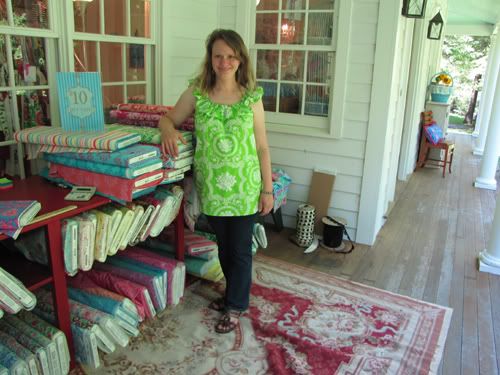 I was so lucky to have my sweet mama with me. She added to the fun and also helped keep track of Louie. She and
Jennifer
hit it right off (I knew they would)! Check at those two gorgeous ladies in their
Patricia Tunics!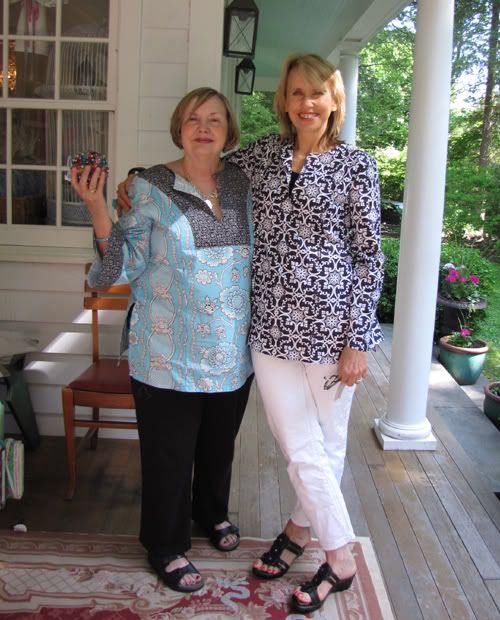 Another big treat was that my friends Nicole and Stacey came with their darling little girls. The babies were so cute together!
Louie LOVED hanging out with the babies' big sisters!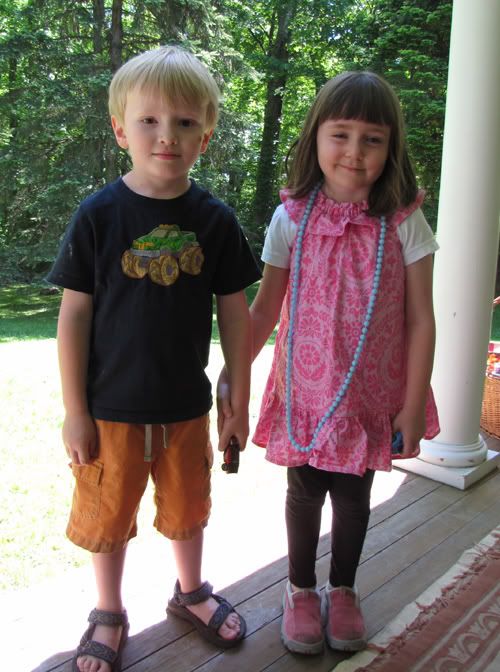 Louie also had an on-location modeling session with the incredible
Tim Geaney
. Lou is going to be the cover boy on our soon-to-be-released child-sized boxer shorts pattern! He is usually totally uncooperative when I am behind the camera, but he had a ball showing off for Tim. I'm over the moon, of course!!!
After the fun in CT, I came home and immediately started preparing for my trip to the big, beautiful city of Minneapolis, Minnesota. I attended my first-ever
Quilt Market
, and it was a star-studded dream come true!!! Just like the Sis Boom trip, however, I got all swept up in the fabricy fun and neglected my picture taking duties (excuses, excuses)! I did get some shots of sewing celebrities, however. Here I am on day one with fabulously cool fabric designers Melissa Averinos (
yummygoods
) and Bari J. Ackerman (
BariJ
). They are both extremely talented and so very nice!
And here I am on day two with quilter/designer/comedian
Mark Lipinksi
!!! I was SO thrilled to get to hug up on him...he is just the sweetest! I am SO framing this picture!
At the
Schmetz needle
booth, I had the pleasure of meeting Rhonda Pierce and
Rita Farro
. These great ladies are so knowledgeable, and they gave me an awesome needle selection guide! Check out the giant needle I'm holding - YIKES! Rita's "Hey Rita" bag is famous! Check out
her blog
for a slideshow!



I really enjoyed getting to know Michelle and Gina from Cloud 9 Fabrics. Their prints are dreamy and the organic fabric feels so nice to the touch! Cherri House of Cherry House Quilts and Michelle show off a wonderful quilt made by Cherri using Cloud 9 Fabrics - heavenly!!!





Here is another fantastic designer working with organic fabrics - Nancy Mims. Her Free to Grow line debuted at the show, and I was beyond excited to see she was displaying a beautiful tunic made from our Sis Boom Shana Pattern!!!





My Facebook friends were VERY excited to find out that Robert Kaufman Fabrics is coming out with Dr. Seuss prints!!!




I got to see sneak peeks on paper, but didn't get any pics because the rep told me they weren't quite ready for release. However, the gals from CityCraft managed to get some shots, and you can see the footage on this podcast!!! In fact, you should check out all of the information-packed QM podcasts on their blog. And if you are in Dallas, visit their awesome shop to meet them in person!

Some other great folks I spent time with (but don't have the pictures to show for it) are Kim Kight, Betz White, Scott Hansen, Michele Merin, Cara Bonner, and Patty Young. Special thanks to Caroline Devoy and Violet Craft for taking me under your wings and making my first market productive, memorable, and crazy FUN!!!