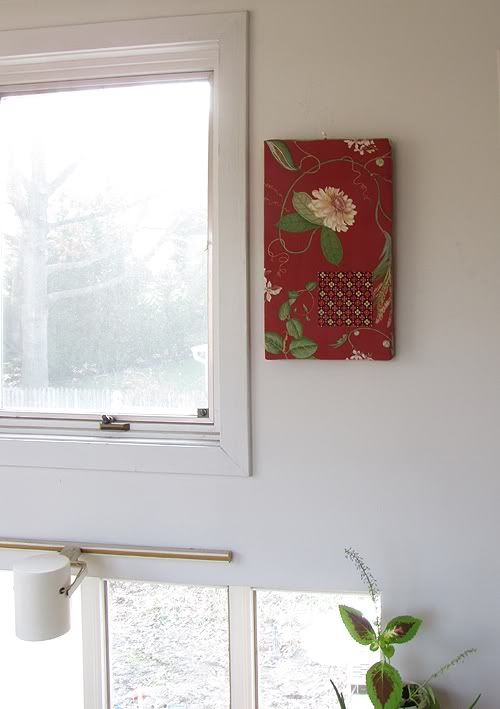 Last week was crazy busy, but I managed to work in my weekly "unblanking" per my
new year's resolution
. This was a super simple project, but has made such a difference in my home.
This was the problem area (eeeww) and it had an identical twin across the room (double eeeww). The former owner had speakers high up on the living room walls. The spaces they occupied reminded me of Frankenstein's monster's neck with the nasty wires and bolts sticking out. For about a year, I was thinking I would just hook up new speakers. I did some searching online, and couldn't seem to find the right fit. Then I just decided that I would cover them up, but I had no idea what with. I really should have at least dusted while I was trying to find the right solution.
I decided I needed two coordinating pieces of simple artwork with dimensions a bit larger than the speaker spots. It had to be lightweight, too, so that it would be easy to hang. Of course I couldn't find what I wanted anywhere. I ended up wrapping tne halves gift boxes with a pretty floral home dec print from P. Kaufmann. Since the box halves were so big and floppy, I used strips of craft wood to give stability. I added a cross piece for hanging.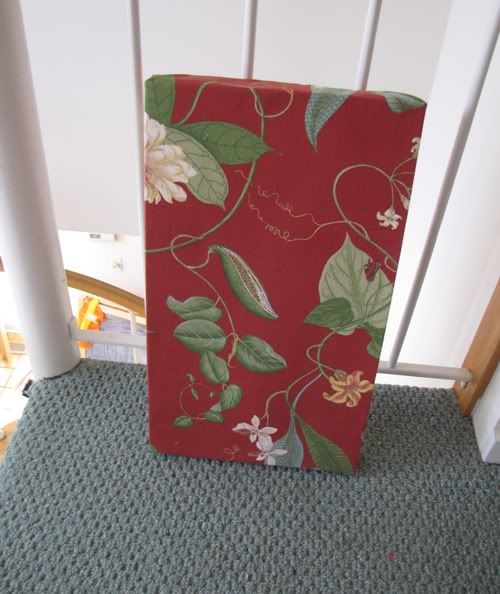 Both of the wrapped boxes were kind of boring. Since I used such a big print, there were some gaps in the design that I wasn't quite happy with. So I cut squares of a Denyse Scmidt home dec print and glued them over the non-interesting areas.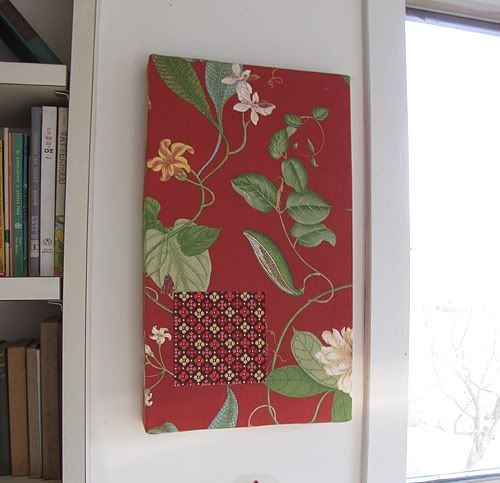 The first speaker space was right next to a loft overlooking our living room, so I was able to lean over and hang it up without any problem. Ugly problem solved on that side!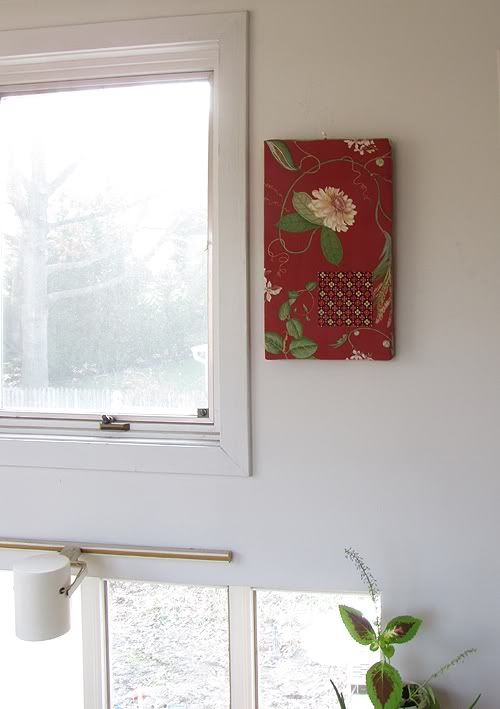 The other side was a bit more of a challenge. It is right next to a spiral staircase, but the spot wasn't close enough to the higher steps to be reachable (at least by me). I really didn't want to get out the ladder, so I tried hanging it with poles, brooms, etc. I dropped it into the living room at least 10 times. Since it was so lightweight and aerodynamic, it survived the multiple falls. I ended up attaching a ribbon loop to the top, and got it up with a combination of a pole and a broom. Phew!