I'm still working on decorating the
upstairs bath
, and I'm trying SO hard not to be too matchy-matchy. A bathroom is such a tiny room (relative to the rest of the house), and it is really easy to go overboard with a theme (I know because I've done it with pansies, leaves, boats, and fish). In this bathroom, the wall adjacent to the shower was blank except for two towel racks. I wanted to stick with the regal peacock theme, but also keep it pretty simple. I looked online for prints and decals, but couldn't find the dimensions/look I was after. So I just broke out the acrylics and painted a simple feather on the wall.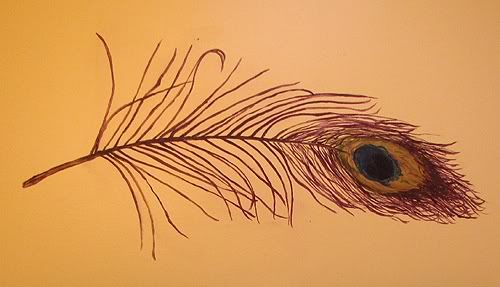 The nice thing about flexible, organic things like feathers is that they don't have to have a set shape or color, so your drawing skills don't have to be perfect. I used a real peacock feather as a "live" model, and it really helped me with the proportions etc.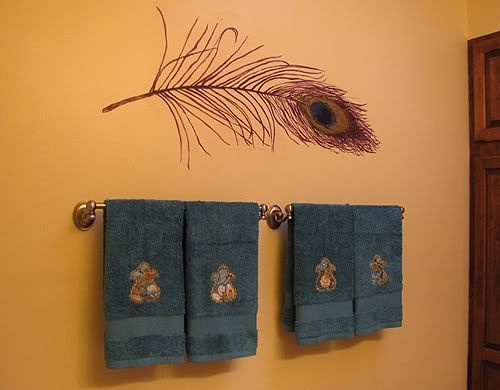 I added gorgeous Sis Boom
Stephanie Paisley Appliques
to some
peacock blue
hand towels and hung them on the towel racks below the feather.




If you look closely, you can see I added a family monogram over the applique. I tend to like dainty fonts that get lost in terry cloth, so putting them on fabric is the only way to go. It gives a bit of a quilted appearance to the applique, too.



Before I go back into the bathroom (still one more wall to do, you know) I want to give you a heads up about some GREAT giveaways going on across the blogosphere...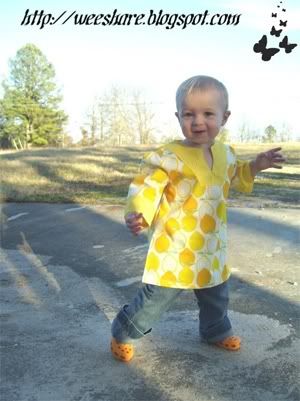 Desi over at WeeShare did the
sweetest review
of the Sis Boom Sophie Tunic, and is giving away three patterns from my
Etsy Shop
. Isn't her little daughter the cutest??? The drawing will be held on 2/22, and she gives you lots of ways to enter. She has scads of great giveaways going on all the time, so
check her out
!
On the Sis Boom Daydreams blog, Jennifer is celebrating the release of her much anticipated So St. Croix line with a
Fat Quarter giveaway
! You have until Sunday the 21st to enter. Not one, but three lucky winners will get fat quarters representing the entire line (18 slices of heaven in all). This is gorgeous, gorgeous stuff folks!!!