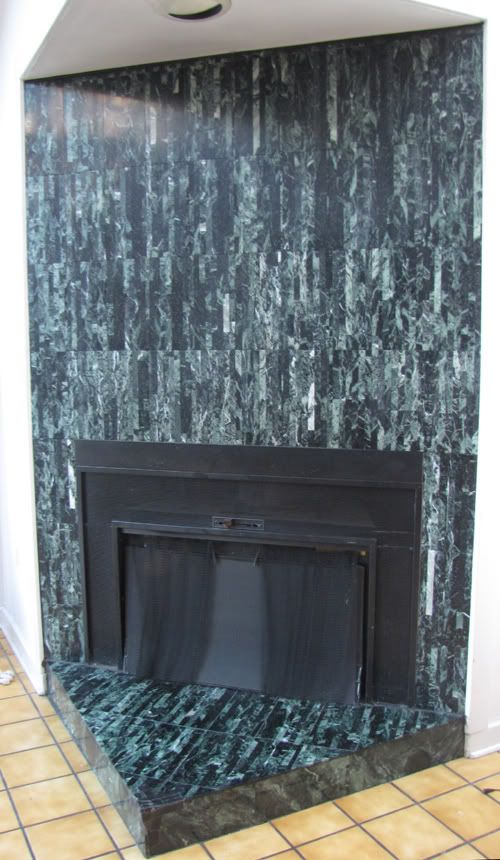 We have a really great fireplace in our contemporary family room. We haven't done much with it other than add a padded bumper to the very sharp corner at the bottom of the hearth (black duct tape blends nicely with the dark green marble). I actually love the look of the natural stone, and I didn't want to cover it up with something big like a mirror or a picture.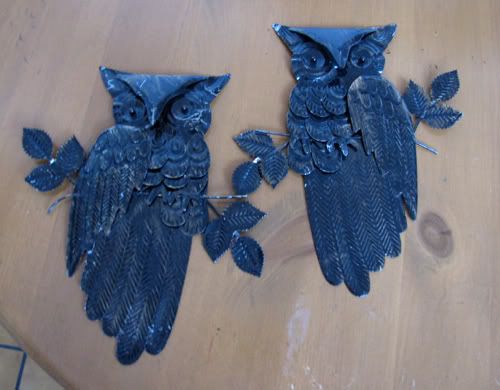 I found these sweet metal owls at the Goodwill. My guess is that they are from the 70's, but I could be off by a decade or so. They were the right size, and just perfect for the natural theme I have going in that room. The only problem was that their coloring was just about the same as the fireplace. Camouflage is a great thing for owls in nature, but not so much for owls in home decor.

I hit them with some copper spray paint, and they really gleamed. Even though they reminded me of the cool mechanical owl from "Clash of the Titans," I decided the look was a bit too garish for that space.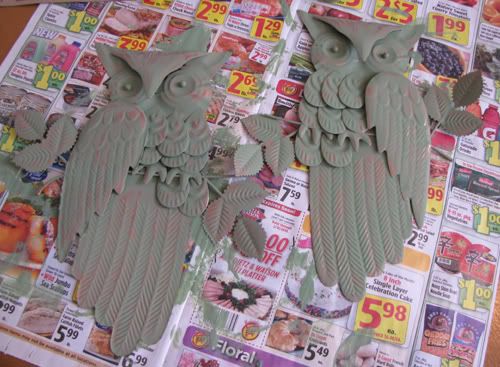 So I went over them with a bit of moss green craft paint to give them a verdigris look. The copper accents still stood out, but in a much more subtle way.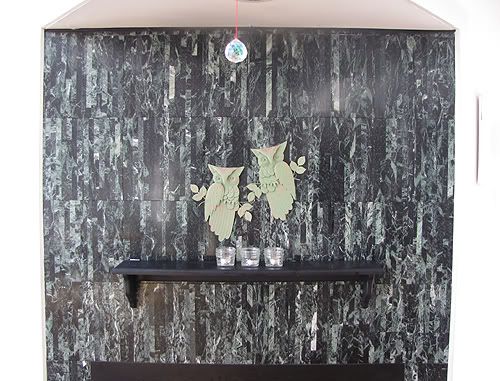 I hung the owls up on the stone with
3M Command picture hangers
. They are great in situations where you really don't want to drill. I decided I wanted a small "mantle" to hold tea lights and/or little vases of fresh flowers (depending on the season). I spray painted a shelf my awesome engineer dad built for me to hang in my first apartment. It was a light oaky color, but that didn't really work on the dark stone. Black was just perfect, however. It is also hung with numerous large Command strips. I even bought a funky ceramic tea light holder at IKEA last week, but it was involved in an unfortunate Nerf football accident before I could get pictures. It was too big anyway, so I just put a few tea lights in ball jars from the basement. I also hung a sparkly crystal to spread light around (and ward off future Nerf ball attacks).
You may have heard...we got whalloped with a record-breaking blizzard. We got close to 30" in the Baltimore suburbs, which is A LOT for this part of the country. I decided that I would do all of the shoveling in the interest of giving my hubby a break and also getting a good workout. What was I thinking??? It took me 4 hours to shovel out the driveway, front walk, back walk, and sidewalk. Towards the end, my wrist started to ache, but I just pushed on through. I think I sprained it, because it really hurts to do little things like fold laundry. So for the rest of the weekend, I think I am just going to curl up in my easy chair and enjoy my newly decorated fireplace!